Owned by Jace from Camlachie, ON.
This is my wife's 1967 mustang. I have been looking for one ever since I sold my 1971 Mach 1 as a kid over 25 years ago also I may have watched Bullitt one too many times!
My wife dropped me and my son Chace off in Port Huron for their cruise night while she and my daughter went shopping. The first car we saw in the parking lot was a green 68 fastback. I said "nice car", they replied with a thanks and "it's not for sale, but that one is" and pointed to a Mustang across the lot. They must have heard Chace and I talking on what I was looking for.
We went over to see the other mustang and recognized it was Dave's car. I have known him and the car for 10 years but he said he would never sell it because it is his wife's car. He explained that she is having a hard time getting in and out with a bit of a bad back so he is building her a street rod and is selling the Mustang. It was kind of a fate moment, Dave said he would hold it for me till the next day as I only live 10 minutes away in Sarnia.
We bought it the next day.
After a week of paper work we had the car. Parked it at a buddy's house for a couple of days as it was going to be a surprise. My wife Kelly, and I went out for our 20th anniversary dinner and as we were finishing up, my buddy along with my kids dropped the car off in the lot, and the kids went and hid behind a fence.
Along our way to our car we walked by the Mustang. "What a nice car I'm going to take some pictures." Then I opened the door to look inside. "You can't do that, are you crazy?" she said. Now the wife is getting worried. I sat in the car and said the keys were left in it, I started it and asked if she wanted to go around the block and we would be back before anyone noticed.
She was starting to lose it thinking I was going to go to jail! She was really wanting me to get out and kept asking whose car is it. She was getting ready to leave me there. That's when I handed her the keys and told her it is her car – Happy Anniversary! Ya, she didn't believe me. After a minute or two of explaining she didn't believe me until I called the kids over who were filming it behind the fence. She was so surprised!
She got behind the driver's seat and we went for a drive. She loved it! She drove through Canatara beach down to the Bluewater Bridge, along lakeshore along with getting waves, thumbs up and a few "nice car!" at the lights.
She loves the car, the only problem now is I have to ask to drive it. Car has just over 44000 original miles on it and a 302 in it. There is a 390 in the barn waiting for a rebuild.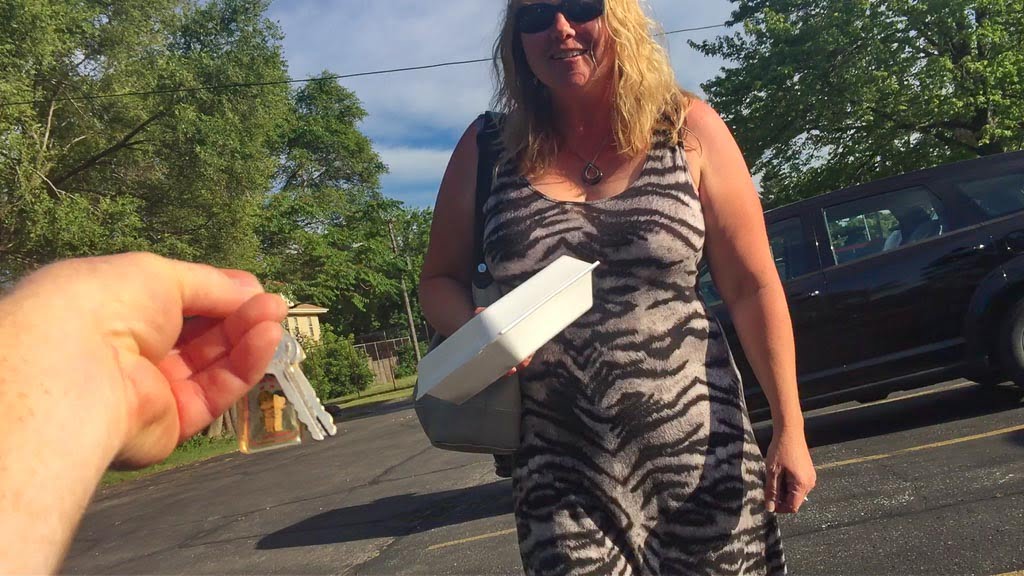 The "it's your car" moment – "here are the keys!"