Brain injuries can forever change one's life in an instant.
Zehr Insurance is honoured to appoint the Brain Injury Canada as our corporate disignate charity.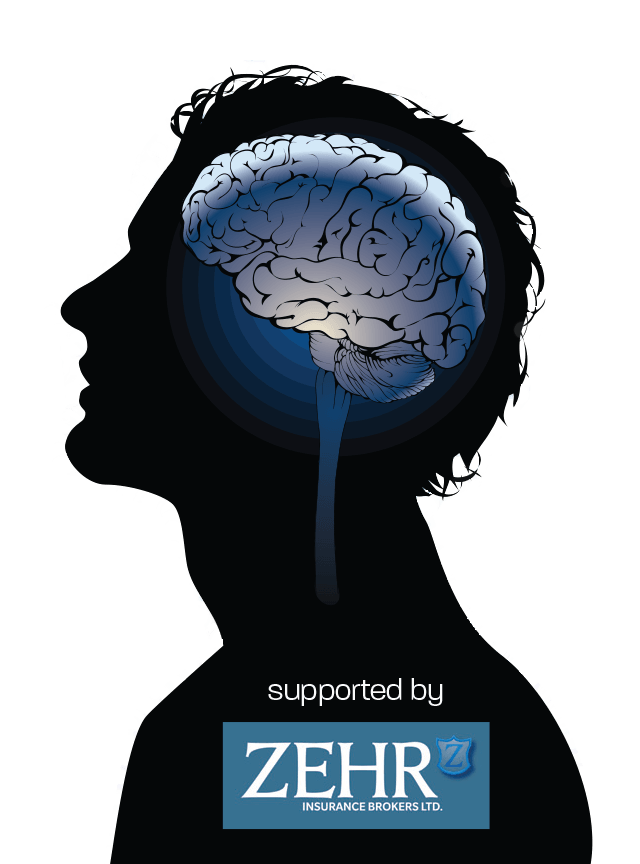 Brain Injury Canada's Mission
Improving the quality of life for all Canadians affected by acquired brain injuries and promoting its prevention.
What is a Concussion?
A concussion is a type of traumatic brain injury. Concussions are caused by a bump or a blow to the head.  Even a "ding" or what seems to be a mild bump or blow to the head can be serious.
You can't see a concussion. Signs and symptoms of concussion can show up right after the injury or may not appear or be noticed until days or weeks after the injury.  If your child reports any symptoms or concussion or if you notice the symptoms yourself, seek medical attention right away
Preventing a Concussion
In the workplace: Always follow safety rules and regulations.  Wear correct safety equipment- replace damaged/worn equipment
During sports: Properly use and maintain sports equipment such as helmets and pads.  Follow the rules of the game.  Practice good sportsmanship
At home and elsewhere: Use seat belts in motor vehicles, and proper child seating.  Do not drive under the influence of drugs or alcohol. Wear a helmet and safety equipment during fast moving activities.  Make living areas safer for children and seniors.  Use safety rules to keep children away from dangerous situations.  Practice common sense and be aware of possible risks.
What are signs and symptoms of a concussion?
If ANY of the symptoms are present following a brain injury, a doctor should be contacted and informed of the symptoms present & the injury
Temporary loss of consciousness or unresponsiveness; lack of awareness to surroundings
Impairment in memory, concentration
Nausea or vomiting
Dizziness or vertigo
Feeling stunned or dazed
Numbness or tingling sensation
Difficulty in following conversations and directions
Balance and orientation problems
Headache
Fuzzy, double, blurry vision
Sensitivity to light or noise
Change in emotion and personality; increased irritability;, depressed mood or increase in anxiety
Changes in sleep patterns; sleeping more/less than usual, trouble sleeping, drowsiness
Managing a Concussion
When signs and symptoms of concussion are present following head trauma:
Immediately cease activity; if the affected individual is unconscious, stabilize head & neck
Seek medical attention and monitor the individual for deterioration for at least 24 hours; seek urgent medical attention if individual suffers from seizures, severe headaches, cannot be woken up, vomits more than 3 times is weak or unsteady on feet, has unequal pupil size or passes out
Obtain a medical evaluation and do not allow the individual to return to work or other activities prior to rehabilitation
Second Impact Syndrome- DO NOT allow individual to return to work or activity following signs of concussion; even a mild blow to the head when post-concussion symptoms are present may result in swelling of the brain
Rehabilitation
Concussion management should be supervised by a medical professional. Rehabilitation should adhere to the following general steps
No activity; complete rest. Only proceed to the next step one the individual is asymptomatic
Proceed with light aerobic exercises, such as walking or stationary biking until asymptomatic for duration of aerobic exercises
Work or activity related skill may be practised, such as carrying equipment at work or skating for hockey
Activities that do not have risk of collision or further trauma may be performed, such as non-contact drills in sports
Return to work and other activities allowed once cleared by a medical doctor; however, the time required to progress from minimal-trauma activities to normal activity depends on severity of concussion
Return to normal work or other activities. If medical clearance is not granted, go the one of the previous steps or obtain a referral to a neurological specialist
Zehr Insurance – A Proud Supporter of Brain Injury Canada
A commonality of experiences exists between the two organizations, thus Zehr Insurance Brokers supports and promotes the Brian Injury Canada (BIC). Brain injuries may be acquired through sickness, disease and trauma. These aspects of life have personally touched several of the people at Zehr Insurance Brokers. Through these experiences we have learned that our involvement with the BIC is a great way to connect with a group of individuals who share our passion for awareness and prevention.
Brain injuries are not just caused by accidents and these injuries take many different forms. Some injuries may be treatable while others are not. That is why brain injury rehabilitation research is so important, because not all of the cures have been discovered yet! There is so much more about the human brain that organizations like the BIC are determined to discover.
Zehr Insurance is a proud advocate and sponsor of Brain Injury Canada by way of several charitable initiatives including:
Our Annual Poker Run & Car Cruise.  Sharing a passion for classic & vintage cars with our clients- every June we organize a poker run & car cruise.  Vehicles register in Listowel and tour through beautiful, rural southwestern Ontario with refreshment stops  at our branch offices culminating with a rally, prizes and BBQ lunch at our New Hamburg head office.  All proceeds of the event go to BIC.
"Helmets for Life" which promotes awareness of concussions and brain injuries through education as well as brain injury prevention by encouraging the use of helmets in sport.  Zehr sponsors many local sports teams that share our goal of brain injury prevention and promotion of the BIC in the hope that donations are raised to help those in need.
Zehr Insurance is the proud recipient of the 2016 Brain Injury Corporate Award.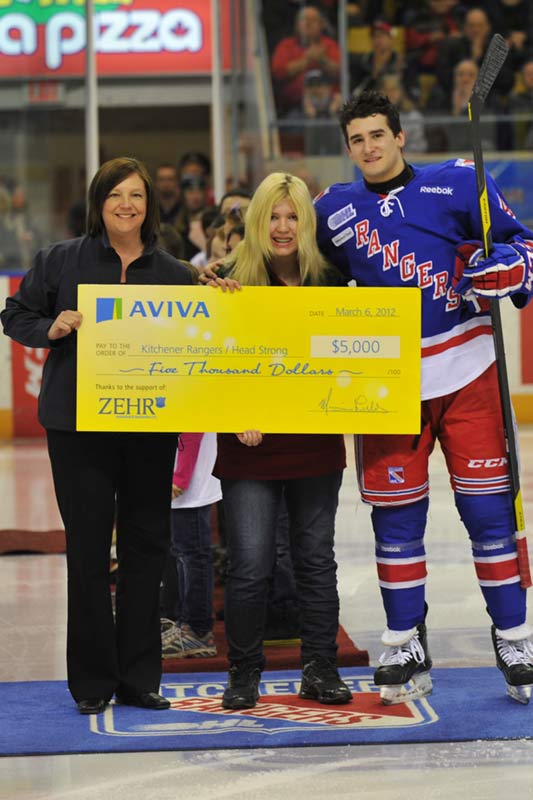 Julie Manske, Aviva – Kelly Zehr – Ben Fanelli, Kitchener Rangers
Previously, on March 6, 2012, along with Aviva Insurance, Zehr Insurance presented a cheque for $5,000 to Kitchener Ranger Ben Fanelli and his Headstrong Foundation after a national top 10 finish in the Aviva Community Fund.  This was our first initiative of Brain Injury Canada and a great success!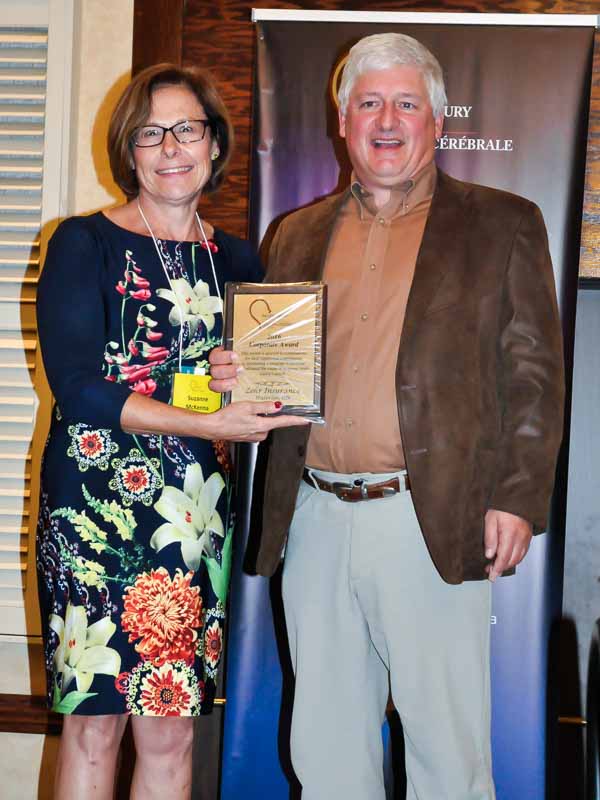 For Further Information
…please visit the BrainInjuryCanada.ca website